How to manually start and stop the Speech recognition queue in Philips SE Pro Transcribe/Dictate v7
WALKTHROUGH GUIDE #361
This 'How to' guide will walk you through the process of how to start and stop speech recognition queue within the Philips SpeechExec Version 7. The speech recognition queue is designed to transcribe speech recognition enabled files in the background or offline. For the purpose of this guide we will assume that you do have a valid version of Dragon installed. Illustrated screen shots have been included for your convenience.
Note: You must have audio file in the speech recognition queue in order to start the recognition queue.
Step 1: Populate the speech recognition queue.
1. Select the files you wish to add to the speech recognition queue.
2. Go to the file menu setting [Speech recognition] >[Add to Speech recognition queue]
1. You will get notification that files are in the queue and are ready for speech recognition. If you do not wish to see this message, check th box, 'Do not show this warning again'.

Step 2: Start the recognition queue by going to [Speech recognition] >[Add to Speech recognition queue]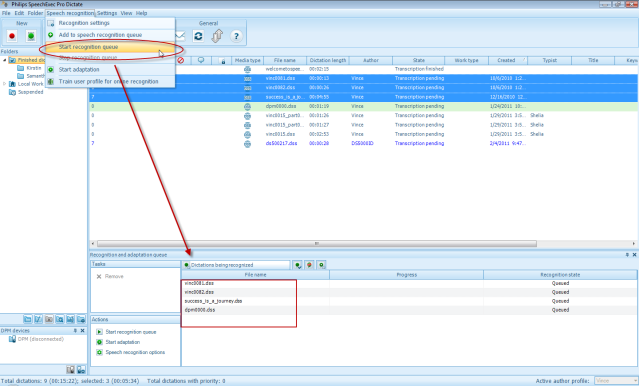 Or you can go directly to the recognition queue and click [Start recognition queue]