How to Control Folder Visibility and Make Subfolders in SpeechExec Pro Dictate 5.1
WALKTHROUGH GUIDE #236
This set-up guide walks you through the process of how setup Folders and Subfolders in SpeechExec Pro Dictate V5. 1. Illustrated screen shots have been included for your convenience.
STEP 1: Select Folders from Worklist
1. In the SpeechExec Pro Dictate, go to General Settings. Once the General Settings dialog box is open, go to Worklist> Folders. To the right of the selection you will see the details for each folder. Click on the folder and below you will see the properties of that folder.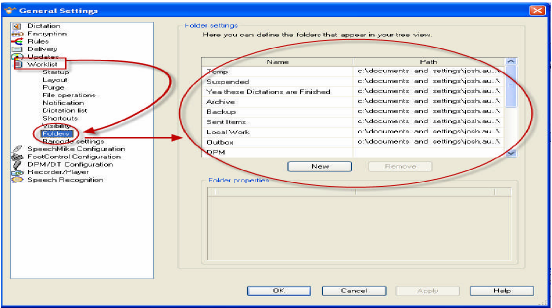 STEP 2: Select Options for Each Folder's Properties
1. Choose whether to make the folder and its subfolders visible. Create new Folders by selecting the [New] Button.