How to alter folder and subfolder visibility within Philips SE Pro Transcribe/Dictate v7
WALKTHROUGH GUIDE #378
This 'How to' guide will walk you through the process of alter folder and subfolder visibility within the Philips SpeechExec Version 7. Illustrated screen shots have been included for your convenience.
Step 1: Go to [Settings] > [General Settings]. Or just press Control +6.
Step2: Once you have opened the General Settings panel, look at the topics on the left hand and choose [Worklist]> [Folders].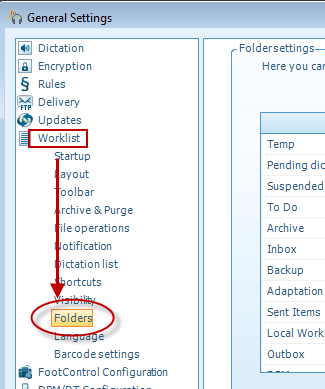 Step 3: On the right hand side, you will see a list of folders. Locate the send folder and click on it, to change the properties. Once you have made the sent folder visible, click OK.

Step 4: Within the folder properties panel you can make a folder and its subfolders visible.