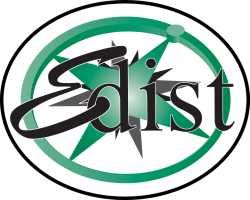 How to manually register the Olympus DVR Service File
Walkthrough Guide #103_B
This set-up guide walks you through the process of manually registering the Olympus DVR Service.exe file. The DVR Service is an Olympus program installed during the DSS Player Pro Release 5installation and set by default to start automatically during the PC boot up process. The Olympus DVR Service is used to identify the recorder. Illustrated screen shots have been included for your convenience.
Read Before registering the Olympus DVR Service – If your Olympus DVR Service fails to register, you may have an issue with that workstation. The simplest one would be lack of administrator privileges by the logged on user. If that is not the case, issues with network and computer policy as well as user profile management and registry access could be the cause.
The best way to handle this issue is to uninstall and reinstall the Olympus software after you have made sure you are logged in as Administrator to the PC and execute the installed using Run As… command as a safe measure.
STEP 1: Manually Registering the Olympus DVR Service
1. On your PC, go to [Start] then [Run]
2. In the Run field, type [sc deleteOlympus DVR Service], then click [OK].
3. In the Run field, type [sc createOlympus DVR Service binpath=%CommonProgramFiles%Olympus SharedDeviceManagerolydvrsv.exe]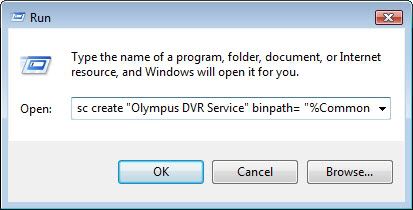 4. Go to Control Panel > Administrative Tools > Services

5. Double-click [Olympus DVR Service] in the Services screen and change the Startup type to Automatic.
6. Click [Start], then [OK].